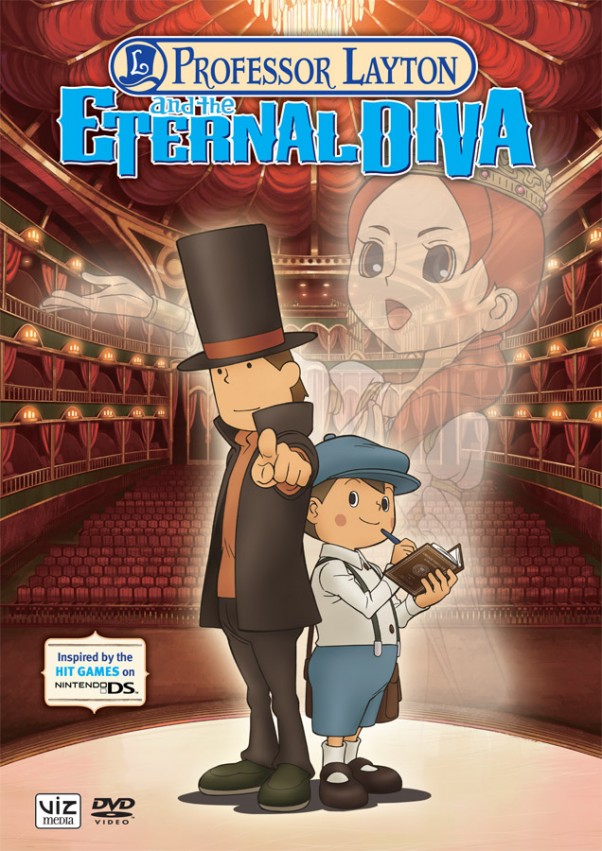 Can't get enough of Professor Layton and his loyal assistant Luke? Well this is sure to be great news; VIZ Media has just announced the upcoming release of an all new Professor Layton anime feature-length flim, Professor Layton and the Eternal Diva, coming to DVD November 8th.
In his latest feature, the good professor is back in the fray after he receives an invite from an old student, opera diva Janice Quatlane, who is performing at the legendary Crown Petone Opera House as her special guest. Unfortunately for Professor Layton, a string of disappearances coincide with mysterious occurrences happening around the opera hall.
According to Brian Ige, VP of Animation, Professor Layton and the Ethernal Diva, will combine action, mystery and the kind of intriguing puzzles, brainteasers, and riddles that have made Professor Layton such a sensational hit for the Nintendo DS and Nintendo 3DS. So if anime and/or Professor Layton is your cup of tea, check out Professor Layton and the Eternal Diva on November 8th and find out if the good professor can solve man's second greatest riddle: Eternal life. (FYI the first greatest riddle of man kind is "what is a crumpet exactly?") Check out the full press release below for more details.
[box_dark]
VIZ MEDIA TO RELEASE ANIMATED FEATURE FILM
PROFESSOR LAYTON AND THE ETERNAL DIVA
San Francisco, CA, November 1, 2011 – VIZ Media, LLC (VIZ Media), the largest distributor and licensor of anime and manga in North America, will release a new anime feature-length film, PROFESSOR LAYTON AND THE ETRENAL DIVA, on DVD November 8th. The movie is based on the highly popular PROFESSOR LAYTON series of video games for the Nintendo DS and will be suitable for All Ages. The DVD features both subtitled and dubbed English dialogue options, and will carry an MSRP of $19.97 U.S. / $19.98 CAN.
Professor Layton, a true English gentleman, renowned archaeologist, and the world's greatest amateur super sleuth, embarks on his most daring adventure yet when he receives a letter from his old student, the famous opera diva Janice Quatlane. She is set to perform at the legendary Crown Petone Opera House and invites him to attend as her special guest. Meanwhile, a spate of disappearances hits London. Two young school girls are the latest victims and the Professor suspects it's related to the mysterious occurrences at the theatre. The Professor and his loyal assistant Luke travel to the Opera House to solve their toughest puzzle yet, the mystery of Eternal Life!
"PROFESSOR LAYTON AND THE ETERNAL DIVA combines plenty of action and mystery with intriguing puzzles and a healthy dose of fun English wit to make for an inviting whodunit sure to captivate a wide audience," says Brian Ige, Vice President, Animation. "The many puzzles that made the original Nintendo DS video game a hit are also present throughout the new feature film, and viewers are allowed time to formulate their own solutions to the riddles and brainteasers before Professor Layton provides the final answer. We invite new and established fans alike to join the fun as the Professor searches to solve the mysteries of Eternal Life hidden at the Crown Petone Opera House!"
The PROFESSOR LAYTON video game series is one of the most successful Nintendo DS exclusive titles. In addition to the popular movie, which was released in Japan in 2009, the property features five games developed by Level-5 for the Nintendo DS as well as two more game titles for the Nintendo 3DS. The games each feature various puzzles and mysteries that must be solved in order to advance to the next level.
For more information on PROFESSOR LAYTON AND THE ETRENAL DIVA, please visit: www.VIZ.com.
About VIZ Media, LLC
Headquartered in San Francisco, California, VIZ Media distributes, markets and licenses the best anime and manga titles direct from Japan.  Owned by three of Japan's largest manga and animation companies, Shueisha Inc., Shogakukan Inc., and Shogakukan-Shueisha Productions, Co., Ltd., VIZ Media has the most extensive library of anime and manga for English speaking audiences in North America, the United Kingdom, Ireland and South Africa. With its popular monthly manga anthology SHONEN JUMP magazine and blockbuster properties like Naruto, Bleach and InuYasha, VIZ Media offers cutting-edge action, romance and family friendly properties for anime, manga, science fiction and fantasy fans of all ages.  VIZ Media properties are available as graphic novels, DVDs, animated television series, feature films, downloadable and streaming video and a variety of consumer products.  Learn more about VIZ Media, anime and manga at www.VIZ.com.
[/box_dark]