A few months ago, the Noisecast published my review of Zenni Optical, an online eyeglasses retailer.  My overall impression of the site was positive.  I got pretty high quality glasses at a fraction of what I'm used to paying for similarly spec'd specs.  I decided that it would be a good idea to review one or two of the other options out there, as Zenni is not the only horse in this race of online eyeglasses retailers.  The folks at www.39dollarglasses.com were gracious enough to provide me with a review unit, and what follows are my impressions of their site, the ease of ordering, and the overall quality of the product.  If you're not sure how to determine the correct frame measurements and get an idea of what kinds of glasses look good on your face, visit my review of Zenni Optical for tips and tricks regarding this process before ordering online.
A few things differentiate 39 Dollar Glasses from Zenni.  First, as the name implies, their frames start at $39.  There are some frames that go above this starting price as well; $39 is just a baseline. Zenni's frames, by contrast, start out at a more frugal $9.99. Another factor that may compel you to give this company a try is the fact that their entire operation is based in the United States (New York state, specifically).  This means a few things. First, you're buying a product that is made in the US (Zenni has their lenses made in Hong Kong, and your order ships from there).  For some people, supporting a US-based company is reason enough to choose them over Zenni.  A second, more direct effect of their location is that your order arrives much, much more quickly (more on that later).
The Website / Frame Selection
Upon visiting the website (www.39dollarglasses.com), I found the site to be fairly well organized and easy to navigate.  The home screen advertises the fact that they use various name brand lenses in their eyeglasses.  This began to give me the idea that the glasses I order will be a bit more premium feeling than those from Zenni.  They have logos for various merchant memberships and endorsements (VeriSign, Better Business Bureau, and BizRate), as well as a few written blurbs from Reader's Digest and The Wall Street Journal recommending the site.  I found it helpful, especially for people new to the process, that they have the FAQ sort of embedded at the bottom of the home page. Overall, my impression of the site was that it was very easy to use and heavily advertises the fact that they are a safe company to do business with.

I navigated to the men's eyeglasses section, and found the results filter very easy to use. I checked off the box in the "Frame Material" section for plastic frames because this is the frame material I prefer.  I was ever so slightly disappointed that, after applying my filter, there were only 83 pairs of men's plastic eyeglasses vs 176 for Zenni.  Of those 83, I found two models that I liked and that met my requirements for size, measurement, and shape (Italia and Odyssey). I went with the Italia, which costs $39.  By comparison, my similar Zenni frames were $19. The price for both sites includes basic lenses.
The selection is probably the biggest criticism I can give 39 Dollar Eyeglasses.  It just isn't as extensive as I would like to see.  Everyone has different requirements for lens measurement, bridge measurement, temple length, and preference for lens shape.  This takes what seemed to me like a lot of options in my selected category (83) to only two that met my criteria for lens shape and measurement.  However, I ended up being quite fond of the two that matched my criteria exactly, but your mileage may vary.  Also keep in mind that 83 pairs of frames in a very specific category (men's plastic frames) is far, far more than you would see at a typical big box eyeglasses retailer or private eye doctor's office.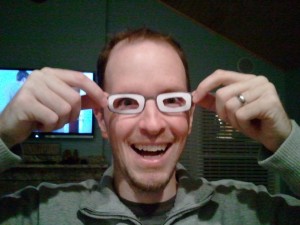 Zenni Optical has a service wherein you can virtually "try on" the frames you're choosing.  You upload a picture of yourself, then you can get a rough idea of what the frames will look like on your face. 39 Dollar Eyeglasses doesn't have this option.  However, they have another, fairly interesting feature.  You are able to create a true-to-size printout of your frames.  The idea of printing out frames is a little gimmicky, but it did help me to compare them side by side with my own glasses. I must warn you, though, that actually trying on the cut-outs is not particularly useful and may result in goofy pictures of you being posted on the Internet.
Ordering Experience
Overall, the ordering experience was as easy, if not easier than with Zenni.  You enter your prescription values (and pupillary distance) in the appropriate boxes after adding your frames to your cart. You are then presented with different options such as higher index (thinner) lenses, tinting, anti-reflective coating, progressive lenses, transitions, etc. My prescription is sort of high, so I prefer a higher-index lens. I also wanted to order things the same as I ordered them from Zenni, in order to get an accurate comparison.  To get a 1.67 index lens, the charge is an additional $29.95.  When compared with $34.95 for Zenni, they are actually a little cheaper for this option.  However, adding anti-reflective coating costs an additional $24.95 whereas Zenni only charges $4.95 for this.
A note: At the last minute I realized that I had accidentally entered the wrong prescription for one eye (I entered -5.25 instead of -5.5).  It wasn't very easy to go back and fix this.  I basically had to hit the browser's back button about 8 times to get back to the appropriate order page and change this information.  There wasn't a hotlink to just change it.  It would've been a lot easier to hotlink back or to give me the option to change that at any time.  However, I'm glad there was a screen to review my order, otherwise I may have missed this error.
My order total at 39 Dollar Eyeglasses was $93.90 shipped.  By contrast, my eyeglasses from Zenni Optical cost $63.90, or exactly $30 less.  However, 39 Dollar Eyeglasses does send a nice hard shell case (along with a lens cleaning cloth, eyeglasses tool and a cloth bag) and their shipping was free, at least at the time I ordered (Zenni sends a cheap plastic case and charged me $5 for shipping).
At this point, I began to speculate as to how the quality would stack up. From the website, I got the impression that these might be a bit higher-end,  but it could've just been clever marketing. The glasses also ship from the US (in New York), so I expected to only wait 3-5 days, as opposed to the roughly two weeks Zenni Optical takes.  I placed my order at around 7PM on 11/5 (a Saturday night…I know, I'm a rockstar ordering glasses on Saturday night), and I received my order the following Thursday.  If I start counting from Monday, that means I pretty much got them in 4 days, which is a big positive to someone like me who doesn't like waiting for things.
Another (albeit minor) criticism I have is that I placed my order on Saturday and got no information or confirmation that my order was received.  I assumed I'd receive something on Monday.  When I went to the site, logged in, and looked up my order, I was told that the order was "in process." I would've liked to have received an automatic confirmation that they received my order, as is the practice at many other retailers. A rough estimate of when that "in process" order would ship would've also been appreciated. On Tuesday around 3PM, I received an email that my order shipped along with a tracking number.  The number didn't work right away, but that's a limitation of the USPS, so I don't hold that against 39 Dollar Eyeglasses.  As I said, my glasses arrived on Thursday and I only chose the standard shipping option.
Finished Product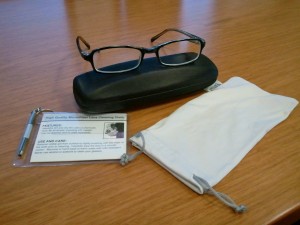 The glasses shipped in a bubble envelope, and were inside the very nice hard case.  Extra accessories include a nice microfiber lens cleaning cloth, a nifty keychain eyeglasses tool (something I'm always losing, so this was a nice touch), and a cloth bag to carry glasses around in day to day.  I use these cloth bags often because I also own prescription sunglasses, and it's easier to carry them in my pocket in a bag vs a hard case.
I removed the glasses from the bag and inspected them. The quality of the craftsmanship on the lenses was superb.  When I compare them to my glasses from Zenni, I now see that my Zenni lenses are not cut/shaped absolutely perfectly in the frames.  Not that it's an issue whatsoever, but the Zenni lenses showed a few imperfections where the lens wasn't perfectly shaped to the frame. By contrast, the 39 Dollar Eyeglasses lenses were fitted and constructed absolutely perfectly.  The frames themselves are as nice as you'd get if you paid a couple hundred dollars (or more) for them at a doctor's office. The high index lenses are impossibly thin and helped my above average prescription fit perfectly into the frames without hanging over the sides at all.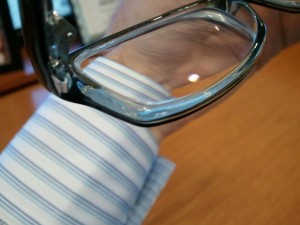 Though they are two completely different frames, I'd say that compared to Zenni these feel a little nicer, a bit more premium, but it could just be the particular style I chose.  I did notice a bit of flex to the frame.  The screws on the arms were really tight when I first opened them, and the frame kind of flexed a bit at the bridge. This worried me a bit, as I heard some creaking when it happened.  Luckily, they included that little tool, and I was able to loosen the screw on that arm a tiny bit to resolve the problem.
Unlike with my Zenni frames, which needed no adjustment out of the box, these sat a little crooked on my face.  To be fair, my face is not perfectly symmetrical, and I'm surprised the Zenni frames didn't need adjustment. I've found that most big box eyeglasses stores (LensCrafters, Sears, Walmart, etc) will do adjustments for free.  I brought mine into a Sears Optical store (only because they appeared to be far less busy than LensCrafters) and the gentleman there was able to adjust them for me in about two minutes.
Conclusion
Overall, I'm very happy with these frames.  They're actually a style of frame that I couldn't find at Zenni (they're black plastic, but the inside part of the frame that faces my face is clear), and are very well constructed.  I got them shipped far, far faster than I did with Zenni Optical, and the inclusion of a nice hard shell case and a few other complimentary extras is a nice bonus.  Compared with Zenni, the selection is smaller, but it still bests any traditional eyeglasses retailer or private eye doctor.  I didn't have any experience with 39 Dollar Eyeglasses' customer service, so I can't comment on how they respond to issues or complaints. However I did communicate with their PR guy to get my review unit, and he was very quick to respond to me and answer questions. If that is indicative of the company as a whole, then you can expect good service. The ordering experience itself was very easy, and even though the frames are not name-brand, the site advertises that the lenses are, and it's apparent when handling them.  Obviously, the product from 39 Dollar Eyeglasses costs a bit more than Zenni Optical, but I still recommend them without hesitation.
Would I recommend them over Zenni Optical?  Not necessarily. Zenni is still cheaper, and for some folks, that is the primary factor when making a purchase.  However, paying that slightly higher price at 39 Dollar Eyeglasses gets you shipping that is faster by at least a full week, and eyeglasses that I think are of a higher quality. You're also buying from a company that is not only based in the United States, but also produces the eyeglasses here as well. This factor alone will likely sway some folks in their direction.  The price is still a huge savings over what you'd pay at a private eye doctor, or a big retailer like LensCrafters. If anything, you now have another option in your arsenal to break free from paying high prices for glasses.  I encourage you to ask any questions in the comments section below.  Happy shopping!
[box_light]
About the Author
Jake Gross is an equal opportunity tech geek whose hobbies include breathing (mostly air), consuming tech news, and not working. He's the father of two children and frequently uses technology as a babysitter. Because of this, be sure to wipe the boogers off his iPad before you use it. He can be found on Google+ or on Twitter.[/box_light]