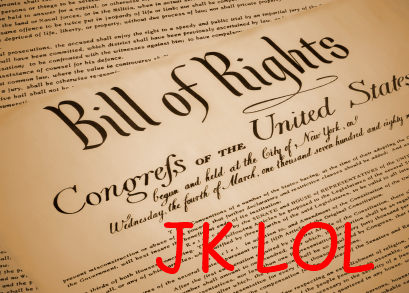 There are bad ideas and then there are REALLY BAD IDEAS. The kind that require all caps and bold, and this, fellow Noisers, is one of them. Four New York State Senators have proposed new legislation to curb what is covered by the US Constitution's First Amendment. According to their recently revised Anti-Bullying bill, the senators are calling for "refinements" to the First Amendment calling it a privilege and not a right.
At best this can be chalked up to good intentions gone horribly wrong, the signing State Senators, Diane J. Savino (South Brooklyn/Staten Island), Jeffrey Klein (Bronx, Westchester), David Carlucci (Rockland County)  and David Valesky (Oneida), came to push this legislation in response to the number of high profile incidences of cyber bullying being a factor leading up to the suicide deaths of teens across the country. As tragic as that may be, the senators are dead wrong in their assessment that legislation would make the problem go away.
In a press release announcing their bill, Savino likens cyber bullying to drunk driving:
[quote]"A generation ago, people had a different view of drinking and driving," Senator Diane Savino, (D-Staten Island/ Brooklyn), said. "It took education and tougher laws to change attitudes and make people aware of the dangers of drunk driving…."[/quote]
Senator Carlucci cited the internet's near permanency of data as a primary reason to consider making changes in our First Amendment Rights. The senator suggested that the difficulty in filtering offensive language or teasing/mocking/harassing requires a broad and quite frankly, disturbing government intervention.
What Savino, Carlucci, and the other two members of the New York State Senate's Independent Democratic Conference doesn't mention is that although we are more "aware" of the dangers of drunk driving, harsher penalties have not ended drunken driving and neither will this bit of legislation. Tougher penalties for harassment may increase the number of arresttable offenses in New York State but it will do nothing to curb the instances of harassment. Proposing sweeping and arbitrary guidelines for what is considered protected speech is in itself an attack on the civil liberties of their constituency and will only limit the power of the Internet.
Among the proposed guidelines in the bill are not just limiting protected speech but also requiring websites to police traffic and content, as well as a provision to eliminate anonymity (at least in New York State). All in all, I don't believe this bill has a chance in Hell and I hope that this gets buried faster than a proposal for a forensic audit on the MTA.
Below is an excerpt of the IDC's CYBERBULLYING: A Report on Bullying in a Digital Age with a link to the full text:
[box_dark]IN THE CASE OF CYBERBULLYING, THE PERCEIVED PROTECTIONS OF FREE SPEECH AREEXACTLY WHAT ENABLE HARMFUL SPEECH AND CRUEL BEHAVIOR ON THE INTERNET. IT ISTHE NOTION THAT PEOPLE CAN POST ANYTHING THEY WANT, REGARDLESS OF THE HARMIT MIGHT CAUSE ANOTHER PERSON THAT HAS PERPETUATED, IF NOT CREATED, THISCYBERBULLYING CULTURE. BUT "HATE SPEECH" THAT CAUSES MATERIAL HARM TOCHILDREN SHOULD HAVE CONSEQUENCES.IN SUMMARY, ALTHOUGH SPEECH IS GENERALLY PROTECTED UNDER THE FIRSTAMENDMENT, THERE ARE INSTANCES IN WHICH RESTRICTIONS ARE WARRANTED. INVIRGINIA V. BLACK,77 FOR EXAMPLE, THE COURT RULED THAT "THE PROTECTIONSAFFORDED BY THE FIRST AMENDMENT (…) ARE NOT ABSOLUTE, AND WE HAVE LONGRECOGNIZED THAT THE GOVERNMENT MAY REGULATE CERTAIN CATEGORIES OFEXPRESSION CONSISTENT WITH THE CONSTITUTION. THE FIRST AMENDMENT PERMITS'RESTRICTIONS UPON THE CONTENT OF SPEECH IN A FEW LIMITED AREAS, WHICH ARE OFSUCH SLIGHT SOCIAL VALUE AS A STEP TO TRUTH THAT ANY BENEFIT THAT MAY BEDERIVED FROM THEM IS CLEARLY OUTWEIGHED BY THE SOCIAL INTEREST IN ORDER ANDMORALITY.'"78[/box_dark]
You can view the entire proposed legislation in its 39-pages here.