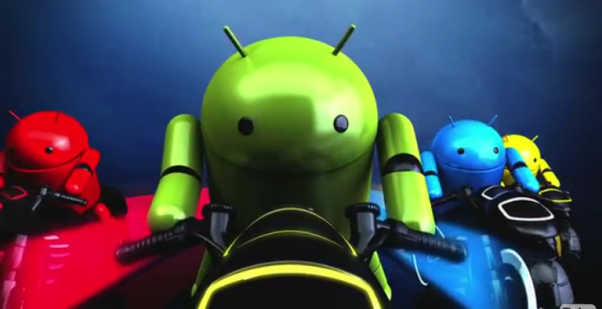 Well, you've been waiting for it. And now it's here! The next RAZR! Oh yeah. And Ice Cream Sandwich. That too! The next version of Android, 4.0 was revealed tomorrow in Hong Kong (don't you just love time travel zones?). And it's pretty cool! Especially if you liked Honeycomb. If you didn't like Honeycomb, though, it's an awful mess. But still! It's here!
Samsung and Google got up on stage to announce the Galaxy Nexus (because combo-branding is so in right now), and along with it the next version of Android. As Matias Duarte got on stage, you definitely got the feeling that Google is taking design seriously. The first feature they demoed was a new font. So clearly Google's considering design pretty heavily on this update.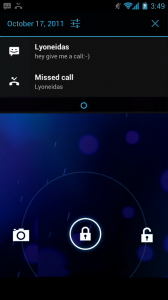 Interface
If you've used Honeycomb for any length of time, you're familiar with most of the new features. Beyond that, we now have an emphasis on swipes and gestures. On your notification shade, for example, you can swipe a notification to dismiss it by itself (much like CyanogenMod 7, if you're familiar with that mod). You can also swipe to close apps from the multitasking menu, which looks a lot like Honeycomb's multitasking switcher.
The homescreen has gotten some love, too. Among the Honeycomb features now available to phones in Ice Cream Sandwich are resizable widgets, a widgets tab in the app drawer, and virtual buttons in place of the physical ones. They've also made folders easier to use. Just drag an icon onto another to create a folder. Tap the group icon to see all of them. This is about a thousand times more useful than the entirely forgotten method of long-pressing an empty area of the homescreen, selecting "Create Folder", and then manually adding icons to it.
In the area of novel features, Google's also added a new quick response feature for incoming calls. If someone's calling you and you can't answer immediately, you can reply with a canned message like "I'll call you later". You can even add your own custom messages. So, say, when your grandmother calls, asking for your help fixing the computer again, you can send her a text saying "Did you try turning it off and on again?" with just a swipe and a tap.
The voice transcription feature, long a trademark of Android, got a boost as well. Now the feature can add text as you speak. As someone who regularly uses the voice transcription feature, I can tell you the biggest pain in the ass is when it cuts you off and you have to start the feature again, building your sentences piece by piece. Live transcription alleviates this problem.
One of the most killer new features, for two-thirds of the U.S. smartphone market at least, is new data management features. Android can now give you a detailed report of just what apps are using up your data cap. You can set your phone to warn you when you've reached a certain point, or cut you off entirely. You can also see which apps use the most data, and even cut the apps themselves off from using background data individually. This is certainly one of the least fun apps around, but in the never ending struggle with carriers over data caps, this is a necessary addition.
Camera and Gallery
The camera and gallery apps got enough new features in this update to justify an event all to themselves. So how about we start with the coolest thing in the world: zero-lag shutter. As you may recall, Apple recently touted just how fast their camera is at their recent iPhone event. Well, Google, not one to be outdone, tossed in this feature to both increase camera speed, and make you wonder if you took a picture at all. Swipe from the lockscreen to get to the camera app, tap the shutter button and there's not even an animation. You just have a picture in your gallery.
And about that gallery! Now you can edit photos right from the Gallery app. Instagram-style filters have been added to the Gallery's repertoire, as well as crop, rotate, set levels, and even adjust red eye without a need for a third party app. Pretty nifty. And, of course, the editor preserves a copy of the original, in case you decide you'd rather do this in Photoshop (which, really, you should. Have some respect for yourself.)
Google also decided to go ahead and invent Photosynth. Now you can create panoramic images straight from the Camera app. The app will kindly direct you to slowly pan your camera, then stitch the images together. Speaking of stitching images together, there's also a timelapse mode. Set up your phone to take a timelapse photo and walk away. Come back and you'll be treated to a lovely timelapse video. Perhaps most kickass of all, though, is that you can now take high resolution photos with the camera while recording 1080p video. Likely thanks, in part, to the near light-speed of the zero-lag shutter.
Everything Else
There's a ton of other new features added as well, including facial-recognition device unlock. Unfortunately, Matias Duarte did too good of a job prettying up his own face for this feature to work on stage. There's also a new feature called Android Beam which is basically a hybrid of Bump and Chrome-to-Phone in that you can tap two NFC-enabled phones together and share articles, maps, even games (via links to the Market). It's cool, but until NFC phones become commonplace, pretty useless. Also, I'd sooner hand someone my phone to let them read an article/show them a map than I would bump them together. But hey, maybe I'll change my mind once everyone I know has an NFC phone.
Ultimately, the bulk of this update is, as expected, unifying the phone and tablet versions of Android. There's no longer any distinction. Apps will simply know what type of device they're being run on and adjust their interface accordingly. And manufacturers and carriers will be building their devices off of one unified body of code.
Android's looking better than ever. Here's hoping it doesn't take forever to get our hands on this software, of course.