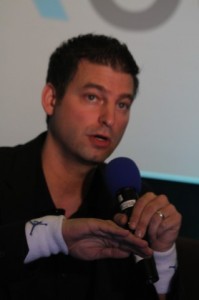 "Twitter is real time," Adam Bain, Twitter's Chief Revenue Officer, emphasized today at the Hyatt Regency in Chicago during Social Media Week 2011. And by emphasized, I mean he made sure that the audience understood that this is exactly what sets Twitter apart from Facebook or Google+ and why Twitter is becoming more appealing to the masses than the other alternatives. The other big difference between Twitter and competitors is that Twitter started off as a mobile service and to this day its active uses primarily use Twitter on mobile devices. The ability to be mobile gives Twitter the one up because it doesn't require its users to visit a desktop for the "full experience." Facebook and Google+ have tried to bring their full experience to their mobile apps but have come a bit short. Twitter was made for mobile and therefore is cross-platform by default.
In fact the user numbers are quite impressive. One in six of all Twitter users started out on mobile, meaning that more than 16% of users signed up and started tweeting from a phone or a tablet. There are over 100 million active user accounts on Twitter with over 600 thousand new accounts popping up every day. Out of those 100 million active accounts about 57 million use Twitter on a mobile device. With these statistics the cross-platform model begins to hit a wall when it comes to generating revenue from marketers and advertisers. How do you launch a cross-platform ad campaign that isn't going to cost an arm and a leg to develop, and how do you do it in 140 characters?
Mr. Bain stressed the importance of marketers in the Twitter ecosystem, stating that "marketers have been part of the platform organically from day one." When Bain started at Twitter a little over a year ago they had only five people on their marketing team. Today they have pumped that number up to 80 and growing.  In less than two years the number of marketers working with Twitter has gone from seven to 1,500. For the regular Twitter users like you or me, this may seem like Twitter is on the side of the "bad guys:" the advertisers, the annoying marketers, the in-your-face flash ads, etc. Quite the contrary. Although Twitter makes money off of promoted tweets, promoted accounts, promoted trends, and more, Twitter is just serving as the middle man. In an M. Night Shyamalan-like twist to this story, the real advertiser is you, the user.
Adam states that 30.6% of all users follow about five distinct brands on Twitter. People seem to prefer Twitter over Facebook when it comes to marketing and promotions because of Twitter's hands-off approach for both parties. Neither you nor the marketer are trying to force engagement; if you just want to listen and not participate, that is fine as well. In fact, after following a brand on Twitter, 59% of users were more likely to recommend that brand as opposed to 55% who followed the brand on Facebook. More importantly, 59% of the people who followed a brand on Twitter were more likely to purchase a product from that brand versus the 46% of followers on Facebook.
Marketers are learning that the Twitter user is actually a free promotion vehicle for their product or service. Bain shows that 14% of all Twitter users have retweeted a promoted tweet and that a staggering 90% of users are comfortable with promoted ads. Take for example Volkswagen and its announcement of the new Beetle on Twitter. That tweet created a 52% engagement rate, meaning that of all the people that saw that tweet, more than half of those people took the extra step to retweet it or reply to it. That's the highest ever engagement rate Twitter has ever seen on any of its tweets.
This is why Adam Bain believes that Twitter is "building a company on a human scale." People's interests shift all the time which is why everyone has a chance to have their voice heard and have their voice create an impact on Twitter. Bain gave the example of the guy who tweeted the famous photo of the US Airways flight that was downed in the Hudson River. That guy was not a reporter, he was not a major mover and shaker. He had only 25 followers and he took and tweeted a photo that was seen by millions of people worldwide. In an eerie sort of way, marketers and users are effectively scratching each others backs and using Twitter to do this. Twitter users want to be instantly connected to what is meaningful to them, marketers provide such meaningful information, and in turn Twitter users turn around and relay that to other users. It's the circle of life, but on Twitter.
You can follow Adam Bain on Twitter at @adambain.