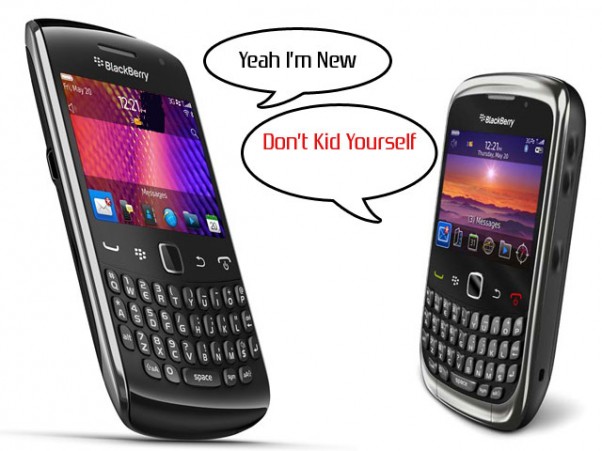 Research In Motion has unveiled a game changing, I mean new, no I mean the same phone once again. Following in standard RIM procedure it was unveiled the latest variation of the Curve. I'm not really sure what RIM is trying to do here. It's not really a new phone since they've made the Curve in some form since 2007. Sure these Curves are an alright low to mid-range phone, but if they really want to pull themselves out of the shithole they're in they need to design something new and quit redoing the same 4or 5 models.
These new version of the Curve, the 9350, 9360 and the 9370, will debut in Canada this month and everywhere else in September. The specs are about what you would expect 2.44-inch, 480×360 display, with a backlit QWERTY keyboard and optical trackpad. Not really a shocker there. The previous version, the 9300 and the 9330 had the same size screen with a 320×240 resolution so it's a bit of an improvement there, but not much. Definitely light years behind other mid range phones.
These phones will also include GPS and WiFi as well as a 5 megapixel camera with flash and video recording. The only difference between the three models will be connectivity and the storage options. the 9350 will be a CDMA device and have 512MB RAM and 512 MB of Storage of storage, the 9360 will have EDGE/HSDPA connectivity and the same storage configuration as the 9350. The 9370 on the other hand will have CDMA/EVDO and EDGE connectivity with 512MB of RAM and 1GB of storage.
It does appear that RIM is trying to make the phones more "social minded" saying they'e have BBM-connected apps as well as access to Facebook, Twitter and the like. It's a step in the right direction, but I seeing as how this is still very smiliar to the phone they released in 2010 I doubt it will be enough wow a consumer who could get a similar device with any OS. Watching RIM keep trying this stuff over and over is getting painful.