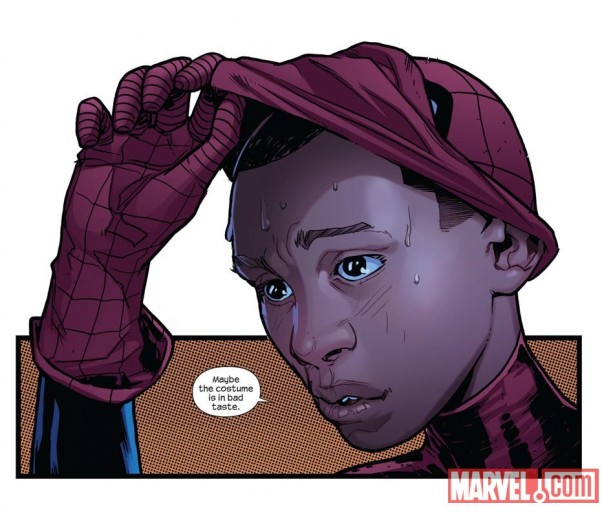 After killing off Peter Parker in the Ultimate Spider-Man comic book series, today, Marvel revealed your new friendly neighborhood Spider-Man. And I love it already.
Meet Miles Morales, a teen who somehow stumbles upon getting some super spider abilities (we'll find out how when we pick up the comic tomorrow) and ultimately becomes New York City's hero – and a 21st century hero at that. For those not in the know, the "Ultimate" alternate universe was spun off to provide fresh new takes on some of Marvel's most iconic properties. The half-Black, half-Hispanic Miles Morales definitely is in tune with a much more diverse reality in which some of our favorite fantasy heroes live in.
The folks at Marvel have been gushing about Miles already and if Spider-Man artist, Sarah Pichelli says he's good in her book, then who can really disagree.  Check the link to Marvel's site for the full details on Ultimate Fallout #4 available at your local comic shop tomorrow. I'll be picking up two copies.