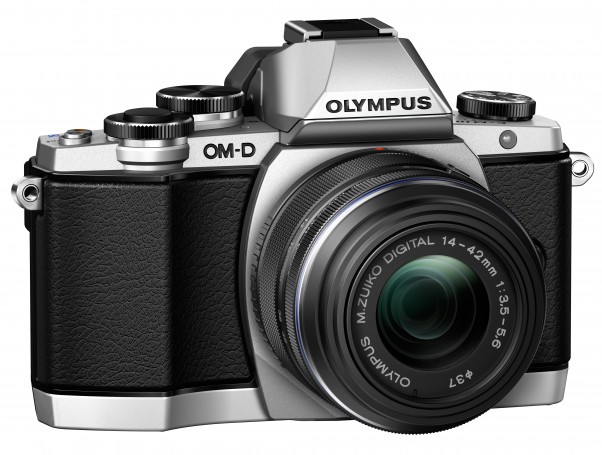 It's been a little over two years since Olympus launched their first micro four-thirds camera aimed at the professional photographer, the OM-D E-M5. The E-M5 helped change the perception of compact system cameras as small enthusiasts cameras, the just announced Olympus OM-D E-M 10 is ready to once again challenge the notion of "bigger is better."
THE E-M10 AT A GLANCE
16MP sensor (the same one found on the E-M5) powered by the TruePic VII Image Processor (the same one found in the E-M1).
in-body 3-axis image stabilization (derived from the E-M 10's bigger siblings).
Built-in WiFi to connect and shoot from your smartphone or tablet or share directly from the camera to social media or cloud storage.
Olympus's 81-point FAST AF autofocusing system that promises to be quick enough to capture up to 8fps of continuous shooting.
Large/fast Electronic Viewfinder.
First O-MD camera with a pop-up flash.
FIRST IMPRESSIONS
The Olympus E-M10 is not intended to replace the E-M5 (it has aged rather gracefully) nor is it a threat to the current Olympus flagship, the E-M1. Instead the E-M 10 hits the sweet spot between them both, boasting the strengths of both while adding a little something extra to the mix. As with the other members of the OM-D product family, the E-M 10 keeps in line with Olympus's retro design language going for the throwback look while offering forward facing features like built-in WiFi connectivity.
Quite possibly one of the nicer touches (though not really shown well in the product images) is the reduction in size compared to the E-M5 while still keeping a robust electronic viewfinder and adding the pop-up flash (just in case you want to do your best Terry Richardson impression). Just a bit of fair warning, the E-M 10 is not weather-sealed so don't go trying to run the faucet under it.
The Olympus E-M 10 is expected to begin shipping in March 2014 and will have an MSRP of $699.99, body only; or $799.99 with a kit lens. Make sure to hit the link for full product details and check out our gallery below.