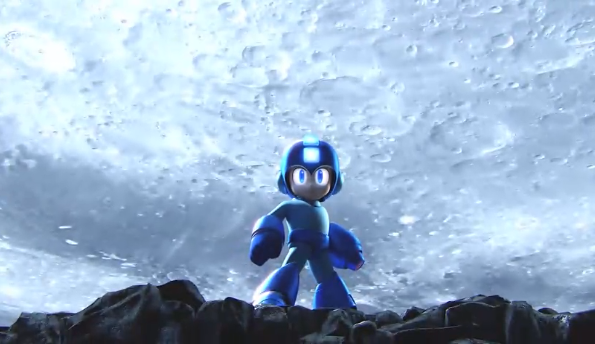 Today's very subdued Nintendo video presentation brings to light what we've all been thinking: There's not too much worth looking forward to on the Wii U.
Sure Bayonetta 2 now has a estimated release date and hair do, the first cooperative-play Mario 3D game was announced, and yes there's even an HD version of The Legend of Zelda: Wind Waker coming in October of this year; but let's be honest, most of us are pretty much enthused about any of these announcements. Even the reveal of a new Super Smash Bros. (coming in 2014) is kind of a let down with the exception of one thing – Mega Man!
I'm going to take a moment here and let my fanboy flag fly high, Capcom has let this icon property go to waste. Sure there were the two 8-bit classic games that were available on PC, XBLA, and PSN but we haven't had a true MegaMan update since the GameCube. Worse yet, when Mega Man was included as a playable character in Capcom's Street Fighter x Tekken, it seemed more of a petty jab at Mega Man co-creator, Kenji Inafune, instead of a real nod to Mega Man fans.
Still, we (or at least I) can put this behind us temporarily as we get to see our blue hero battle it out on the 3DS and Wii U. Sure, it may not convince me to drop my cash on a Wii U anytime soon but at least I'll have until 2014 to decide.