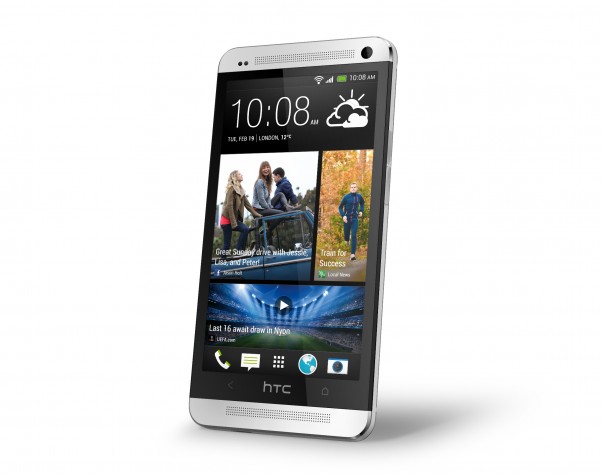 HTC announced their latest flagship phone in a dual city presentation both here in New York City and in London. The HTC ONE has long been confirmed via various leaks, but now that it's been officially announced, we can gather 'round the news and make witty comments informed decisions on what the latest and greatest offering from HTC brings to the table.
For starters, HTC continues to milk the "Beats Audio" brand for all its worth; their new BoomSound feature puts two stereo speakers in the front of the phone to provide what HTC claims to be the most powerful audio experience on a mobile device. Stereo speakers on a phone would definitely be an industry first, but the thought of someone using their HTC One to blast Trinidad James on my commute is the stuff of nightmares.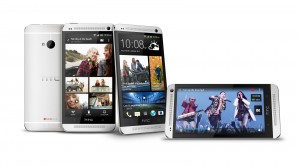 HTC also unveiled their new Sense (don't say that out loud and fast… or do) with "Blinkfeed" – a Flipboard-like proprietary app that brings all the information most relevant to you front and center. They've partnered with some pretty big names to roll this out, including AOL and ESPN, so if nothing else, HTC is serious about delivering content to your eyeballs.
Speaking of content, HTC has updated their default music player to pull down song lyrics from the "cloud," as they put it, as well as other information about whatever is playing at the moment. HTC is also trumpeting their new "Ultrapixel" camera – which will allow you to take better snapshots in low light. Now your food pictures can pop even more without all that harsh LED flash. It seems that not even HTC could shy away from the .GIF revolution, their HTC Zoe app will allow you to take short "video" clips a la Vine or Nokia Cinemagraph and share with everyone you know.
In terms of hardware, the HTC One is more than capable sporting a 1080P (468PPI) 4.7-inch display, a Snapdragon 600 processor, and 2GB of RAM. It's 9.33mm frame was crafted out of "a single block of aluminum" (where have we heard this before?) and will come in Black or Silver in 32GB or 64GB models. Of note, you'll notice that the number of capacitive buttons has been cut from three buttons to two buttons – HTC has done away with the multitasking key; you'll need to learn new multi-input commands for that now (press the "Home" button twice).
Clearly HTC is not pulling any punches with their latest handset, however, we've seen where having a great phone is no longer enough to have a blockbuster hit on your hands (looking at you Nokia). Still we love the fact that they've pared down their handset offerings to just one kickass device and not continue to dilute their brand.
The HTC One will be available in 80 countries at launch; here in the US it will be available on T-Mobile, AT&T, and on Sprint (sorry Verizon customers, you'll be left out for now). For the full run down of the new device, check out the full press release below.
[box_dark]Introducing the new HTC One®, a new perspective on smartphones
HTC BlinkFeed™, HTC Zoe™ and HTC BoomSound™ Deliver HTC One's Unprecedented New Smartphone Experience 
London and New York City, February 19, 2013 – HTC, a global leader in mobile innovation and design, today announced its new flagship smartphone, the new HTC One. Crafted with a distinct zero-gap aluminium unibody, thenew HTC One introduces HTC BlinkFeed™, HTC Zoe™ and HTC BoomSound™, key new HTC Sense® innovations that reinvent the mobile experience and set a new standard for smartphones.
"People today immerse themselves in a constant stream of updates, news and information. Although smartphones are one of the main ways we stay in touch with the people and information we care about, conventional designs have failed to keep pace with how people are actually using them," said Peter Chou, CEO of HTC Corporation. "A new, exciting approach to the smartphone is needed and with the new HTC One, we have re-imagined the mobile experience from the ground up to reflect this new reality."
HTC BlinkFeed: A personal live stream right on the home screen
At the centre of the new HTC One experience is HTC BlinkFeed. HTC BlinkFeed is a bold new experience that transforms the home screen into a single live stream of personally relevant information such as social updates, entertainment and lifestyle updates, news and photos with immersive images so that people no longer need to go to separate applications to find out what's happening. HTC BlinkFeed aggregates the freshest content from the most relevant and interesting sources, giving it to people at a glance, all in one place, without the need to jump between multiple applications and web sites.
To enable this new dynamic approach to the smartphone, HTC will provide both local and global content from more than 1,400 media sources with more than 10,000 articles per day from some of the most innovative media companies, such as the AOL family of media properties, ESPN, MTV, Vice Media, CoolHunting, Reuters and many others. For more information on HTC BlinkFeed's content partners, visit the HTC Blog.
HTC UltraPixel Camera with HTC Zoe
The breakthrough HTC UltraPixel Camera redefines how people capture, relive and share their most precious moments. HTC Zoe gives people the ability to shoot high-res photos that come to life in three-second snippets. These Zoes, photos and videos are then displayed in a unique way that brings the gallery to life and transforms the traditional photo gallery of still images into a motion gallery of memories. It also automatically creates integrated highlight films from each event comprised of Zoes, photos and videos set to music with professionally designed cuts, transitions and effects. These highlight videos can be remixed or set to different themes, and can be easily shared on social networks, email and other services.
To enable this innovative camera experience, HTC developed a custom camera that includes a best-in-class f/2.0 aperture lens and a breakthrough sensor with UltraPixels that gather 300 percent more light than traditional smartphone camera sensors. This new approach also delivers astounding low-light performance and a variety of other improvements to photos and videos. In addition, the perfect self-portrait or video is just a tap away with an ultra-wide angle front-facing camera which supports 1080p video capture. Multi-axis optical image stabilisation for the rear camera also helps ensure video footage smoother whether stationary or on the move. HTC UltraPixel camera adds many other features and effects such as enhanced 360′ panorama, time sequencing and object removal.
HTC BoomSound
The new HTC One offers the best audio experience of any mobile phone available today. HTC BoomSoundintroduces for the first time on a phone, front-facing stereo speakers with a dedicated amplifier and an amazing full HD display that immerses people in music, videos, games and the YouTube™ clips they love. Beats Audio™ integration is enabled across the entire experience for rich, authentic sound whether you're listening to your favorite music, watching a YouTube video or playing a game.
HDR recording uses advanced dual microphones and audio processing to capture clean, rich sound that is worthy of high-definition video footage. Phone calls sound great on HTC One thanks to the addition of HTC Sense Voice™, which boosts the call volume and quality in noisy environments so that conversations come through loud and clear.
HTC Sense TV™
HTC Sense TV transforms the new HTC One into an interactive program guide and remote control for most TVs, set-top boxes and receivers. Tapping the power of the cloud, Sense TV makes it simple and intuitive to see what's on and find that favourite show.
Metal Unibody Design
Wrapped in a zero-gap aluminium unibody and sporting a brilliant 4.7", Full HD (1080p) screen, the new HTC Onefeatures the latest Android Jelly Bean operating system and LTE network technology to offer blazingly-fast browsing in a package that combines premium design with breakthrough build quality.
Available in stunning silver and beautiful black, the sleek and crafted aluminium unibody sits comfortably in the hand and showcases HTC's unique antenna technology, which helps people achieve a crystal clear signal. The display also resists scratches and reduces glare, whilst offering incredible 468ppi resolution and rich, natural colours.
Global Availability
The new HTC One will be available globally through more than 185 mobile operators and major retailers in more than 80 regions and countries beginning in March. For more information and to pre-register for the new HTC One, visitwww.htc.com.
Europe, Middle East and Africa: 1&1 Germany, A1 Telekom Austria, AB Poland, Allo Ukraine, AMC (Cosmote) Albania, Avea Turkey, Beeline Kazakhstan, Belcompany Netherlands, BH Telecom Bosnia & Herzegovina, Bite Latvia, Bite Lithuania, Bouygues Telecom France, Carphone Warehouse UK, Cell C RSA, Citrus Ukraine, Cosmote Greece, Cosmote Romania & Global Bulgaria, Cyta, DT Mobile(TS) Latvia, Du UAE, Dustin Sweden, Eagle Mobile Albania, EE UK, Elisa Estonia, Elisa Finland, El-Giganten Denmark, El-Giganten Sweden, Elkjöb Norway, EMT (TS) Estonia, E-Plus Germany, ERC Ukraine, Euroset Russia, Gigantii Finland, Go Malta, H3G Austria, H3G Denmark, H3G Italy, H3G Sweden, H3G UK, HT Eronet Bosnia & Herzegovina, K-Cell Kazakhstan, KPN Belgium, KPN Netherlands, Life Belarus, LuxGSM Luxembourg, Megafon Russia, Melita Malta, Meteor Ireland, Mobilezone Switzerland, Mobilochka Ukraine, Mobily KSA, MSH Belgium, MSH Germany, M-Tel Montenegro, M-Tel Bosnia & Herzegovina, MTI Ukraine, MTN Cyprus, MTS Belarus, MTS Russia, Netcom Norway, (Telefónica) O2 Czech, (Telefónica) O2 Germany, (Telefónica) O2 Ireland, (Telefónica) O2 UK, Omnitel Lithuania, One Macedonia, Optimus Portugal, Orange France, Orange Maldova, Orange Poland, Orange Romania, Orange Slovakia, Orange Spain, Orange Switzerland, Partner Communications Israel, PhoneHouse France, PhoneHouse Germany, PhoneHouse Netherlands, PhoneHouse Sweden, Phones4U UK, Play Poland, Plus Communication Albania, Polkomtel Poland, Proximus Belgium, SFR France, SiMobil Slovenia, STC KSA, Sunrise Switzerland, Svyaznoy Russia, Swisscom Switzerland, TDC Denmark, Tele2 Croatia, Tele 2 Estonia, Tele2 Latvia, Tele2 Lithuania, Tele2 Russia, Telia Denmark, Telia Sweden, Telekom Slovenija, Telenet Belgium, Telenor Denmark, Telenor Norway, Telenor Sweden, Telenor Hungary, Telenor Serbia, Telkom Serbia, TIM Italy, TMN Portugal, T-Mobile Austria, T-Mobile Croatia, T-Mobile Czech Republic, T-Mobile Germany, T-Mobile Hungary, T-Mobile Macedonia, T-Mobile Montenegro, T-Mobile Netherlands, T-Mobile Poland, T-Mobile Slovakia, Turkcell Turkey, Tus Mobil Slovenia, Velcom (TAG) Belarus, VIP Operator Macedonia, VIP Mobile Serbia, Vipnet Croatia, Vivacom Bulgaria, Vodacom RSA, Vodafone Albania, Vodafone Czech Republic, Vodafone Egypt, Vodafone Germany, Vodafone Greece, Vodafone Hungary, Vodafone Ireland, Vodafone Italy, Vodafone Malta, Vodafone Netherlands, Vodafone Portugal, Vodafone Romania, Vodafone Spain, Vodafone Turkey, Vodafone UK, Wind Greece, Wind Italy, Yoigo Spain, Yug Contract Ukraine, Zain KSA.
Asia-Pacific: China Mobile Hong Kong Company Ltd., ChungHwa Telecom, 3HK, CSL, Fareastone, M1, Mobifone, Optus, PCCW mobile, Reliance Communications, Singapore Telecommunications Ltd., SmarTone, StarHub, Taiwan Mobile, Telecom New Zealand, Telstra, Virgin Mobile, Vodafone Australia, Vodafone New Zealand.
China: China Mobile, China Unicom, China Telecom
North America: AT&T, Sprint, T-Mobile, Cincinnati Bell and Best Buy in the United States and in Canada with Rogers Communications, Bell Mobility, TELUS and Virgin Mobile Canada.
Latin America: Claro Argentina (América Movil), Telecom Personal Argentina, Entel Chile, Iusacell México, Telcel México (América Movil), Claro Perú (América Movil), Claro Puerto Rico (América Movil), Movistar Venezuela (Telefonica)
[/box_dark]