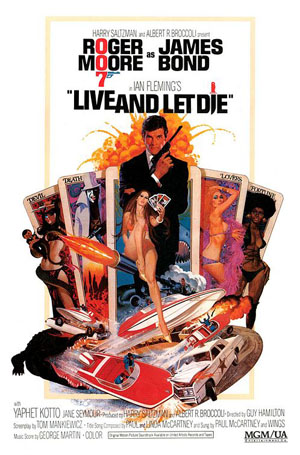 To the Summary!
Roger Moore makes his debut as the MI-6 agent, James Bond.  Bond travels to the states to track down what happened to three fellow agents.  What he discovers is… the undead!  And heroin…
To the Cast!
Roger Moore – James Bond
Yaphet Koto – Kananga/Mr. Big
Jayne Seymour – Solitaire
Clifton James – Sheriff Pepper
Bernard Lee – M
Lois Maxwell – Moneypenny
To the Deeper Thoughts!
Roger Moore has not always been a Bond that I held in high regard.  But Live and Let Die is not the reason I think this.  Those movies come later.  Here though, Moore plays Bond very well.  James bond is tasked to go to New Orleans and check out why some of his fellow agents have been… liquidated.  He stumbles across the operation of one Mr. Big, a gangster who owns a series of restaurant/night clubs called 'Fillet of Soul'.  Obviously, these are fronts for the criminal organization.  At one, he meets the fortune teller Solitaire, whom Mr. Big uses to see the future.  But, this being Bond, he eventually, uh… removes Dr. Quinn's Solitaire's fortune telling abilities.

Now, about that undead business.  See, Kananga (who is the dictator of a random island in the Caribbean) is actually Mr. Big, the crime boss.  So since he is one and the same, he grows poppies on his island.  (I'm getting to the undead!)
Ok, its taken me way to long to finish this one up.  Short version:  Roger Moore does really well in his first outing as James Bond.  Its one of my favorites and the closing scene is just perfect.
Oh, and there really arn't any undead.  Just a crime boss playing on local superstitions.