If you thought your wallet was going to get a break now that the Steam Summer Sale is over, think again. Just in time for Quakecon, Steam has announced their HUGE bundle including every FPS you'd ever want to play.
Included in the Quakecon Bundle are all flavors of Doom, Quake, Wolfenstein, Brink, Rage and more. Yes, MORE. You'll drop one Ben Franklin on this bundle but that's still a savings of over $200.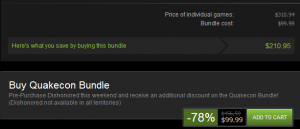 Yeah, get you some. You can check out the full bundle with this link, or hit our source link for more details.
Game on.