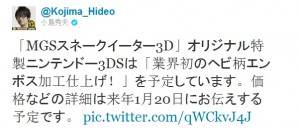 Snakeskin your thing? Wish you could wrap all your gadgets in something that resembles a dead reptile? Well, Foxhound's Kojima Production's big boss, Hideo Kojima, has announced the upcoming release of a snakeskin wrapped Nintendo 3DS. There's not much info available aside from the obvious: it's part of a special edition bundle that includes the snakeskin Nintendo 3DS and a copy of Metal Gear Solid: Snake Eater 3D.
For those of us that are a little rusty with our ability to read Japanese, Google translates the tweet as follows:
[quote]"MGS: Snake Eater 3D" Nintendo 3DS original signature is "the industry's first finishembossed snake pattern" has been scheduled. For more information and pricing is expected to convey on January 20 next year.[/quote]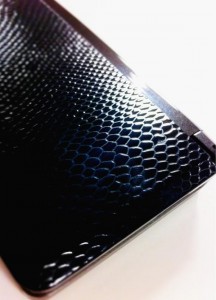 Rest assured, we'll be keeping an eye out for any news of a US release of the limited edition portable; in the meantime, would you buy a (presumably fake) snakeskin Nintendo 3DS?