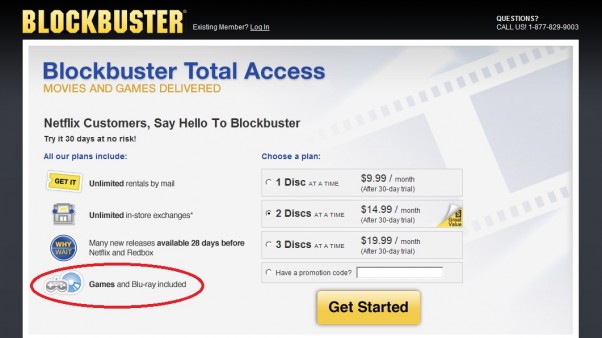 So today many Netflix subscribers got the great news, explanation, apology from CEO, Reed Hastings. The general gist of the Mr. Hastings email was to apologize the many spurned subscribers and those that have contemplated jumping ship as a result of Netflix's recent price increase gauging. The hat-in-hand apology also unveiled a re-branded physical media arm of Netflix called Qwikster (please follow our twitter accounts for the nonstop flaming of the name).
Not one to pass up an opportunity for new customers, and boy do they need them, Blockbuster has taken to the twitters to throw out a life line to those seeking the refuge of physical media.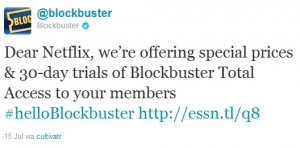 Although it may be too little too late for the once relevant leader in video rentals, Blockbuster's offering does have some things worth looking at. For starters, getting Blu-Ray discs on Netflix requires you to upgrade your basic account. Netflix, under their new Qwikster moniker, will begin to offer video game rentals as well an even though they haven't announced the new pricing, this will also require an upgrade from the intro plan of $7.99/month. Blockbuster says nay to both; all their packages include Blu-Ray and video game rentals at no additional cost.
Blockbuster is clearly going for the physical media set in their latest subscriber grab and this is good. Hopefully Mr. Hastings' Accounting Department is taking note and trying to find a way to compete with the  $9.99/month introductory plan for Blu-Ray/DVD/video games.