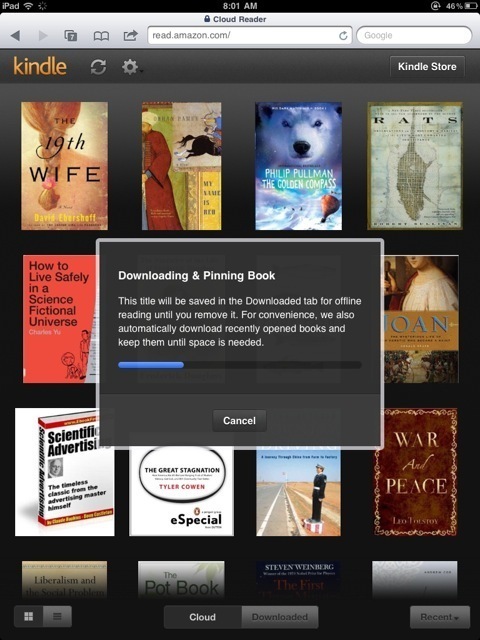 If you remember the grand hubbub of Apple's recent changes to the iOS terms, you've been patiently waiting to see what clever way companies adapt, or if they break. The concensus at the time was that big players like Amazon would be forced to pull their apps rather than shell out the exorbitant fees to keep their wears on iOS. Apple then relaxed the rules allowing companies like Amazon to breath a sigh of relief, but it started a frenzy of alternative seeking. Apple is… mercurial.
It hasn't been officially announced yet but the Kindle Cloud Reader is live right now. What is it? It's a web-based version of the Kindle eBook reader app. This has been in the works since before the apple kerfuffle, and ChromeOS users as well as users of the Chrome webstore have been patiently waiting for this development. The app allows you to read your books from the cloud or to download your books for offline reading using either a Chrome browser extension or HTML 5.
According to Amazon, the app officially supports Chrome and Safari. It is platform agnostic and still works on the iPad which Amazon goes out of its way to highlight. The iPhone, however, is still not supported and you are directed to get their native iPhone app instead. However, we can't stress enough how iPad optimized it for the iPad it is. One important thing to note is that you still have your Kindle device limits. Your Kindle books can only be accessed from a set number of devices (a bit o' DRM at work). The web app counts so, if you already have granted access to your library from multiple devices, you might be unable to access it from the browser. You can presumably de-authorize devices though.
Follow the source links for access to the cloud reader and for screenshots.