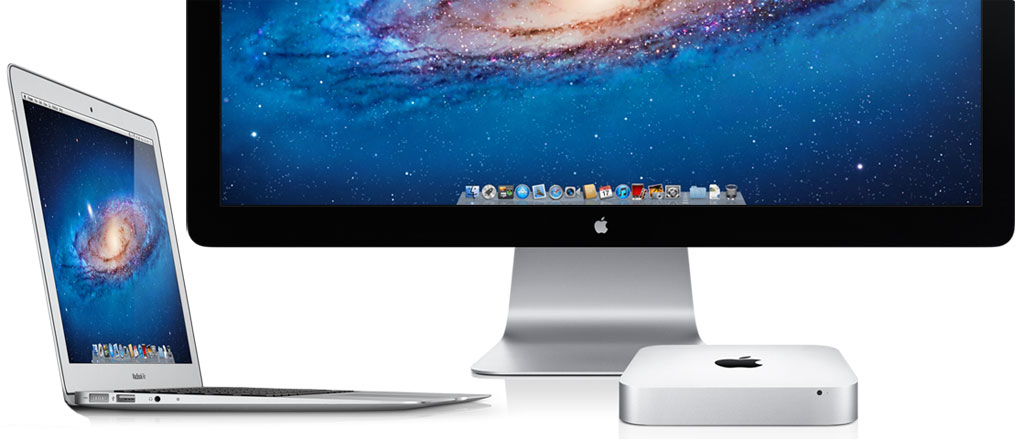 The Apple store is back up and running with the much anticipated OS X Lion hitting the App Store, but with it came a few other goodies as well! Lion is now available on the Mac App Store for $29.99 (make sure you have Snow Leopard to get it!) but for those who are considering upgrading their hardware, Apple also released a refresh of their Mac Mini and MacBook Air lines and also debut the new Thunderbolt Apple Displays.
The MacBook Air shed its outdated Core 2 Duo processors for some shiny new Intel i5 chips clocking at 1.6Ghz and 1.7 Ghz. A Thunderbolt port is also standard on the new devices as well as backlit keyboards. For those who were itching for some more RAM and hard drive space, an option of 4GB of memory is available on the 11-inch model while the 13-inch model comes with it stock. The 13-inch model also has the option of upgrading to a 256BG SSD. The Mac Mini also gets some Thunderbolt and Sandy Bridge i5/i7 love as well as upgradable RAM and SSD drives to 8GB and 256GB respectively. Both the Air and the Mini come with Lion pre-installed.
To continue the Thunderbolt extravaganza, Apple released its 27-inch backlit LED Thunderbolt Display today, boasting 2560×1440 resolution, three USB 2.0 ports, a Firewore 800 port, a Gigabit Ethernet port, and of course a Thunderbolt port. Any Apple device is plug-and-play, especially if it is via the Thunderbolt port (although if your device has only one Thunderbolt port, you might run into some functionality issues if you have a Thunderbolt external hard drive) and the display also has a Facetime HD camera. Hit up the Apple Store for full details and pricing.
Edit: Thanks to @StyxaT for pointing out that the Air and the Mini now use Bluetooth 4.0, a big jump over Bluetooth 2.1 +EDR that the previous generation used. This is a surprising move for Apple, considering how Bluetooth 3.0 hasn't really become too widespread in the industry yet (with the exception of Samsung products), and how Apple doesn't adopt wireless technologies so quickly (see 3G, LTE). Although there aren't many devices on the market today that use Bluetooth 4.0, it is a "low-energy" spec that will allow for greater energy conservation and the incorporation of Bluetooth on devices smaller and less powerful than mobile products, such as sport watches and pedometers. Bluetooth 4.0 is backwards compatible with 3.0 and 2.0/2.1 so your current phones and headsets will work just fine.